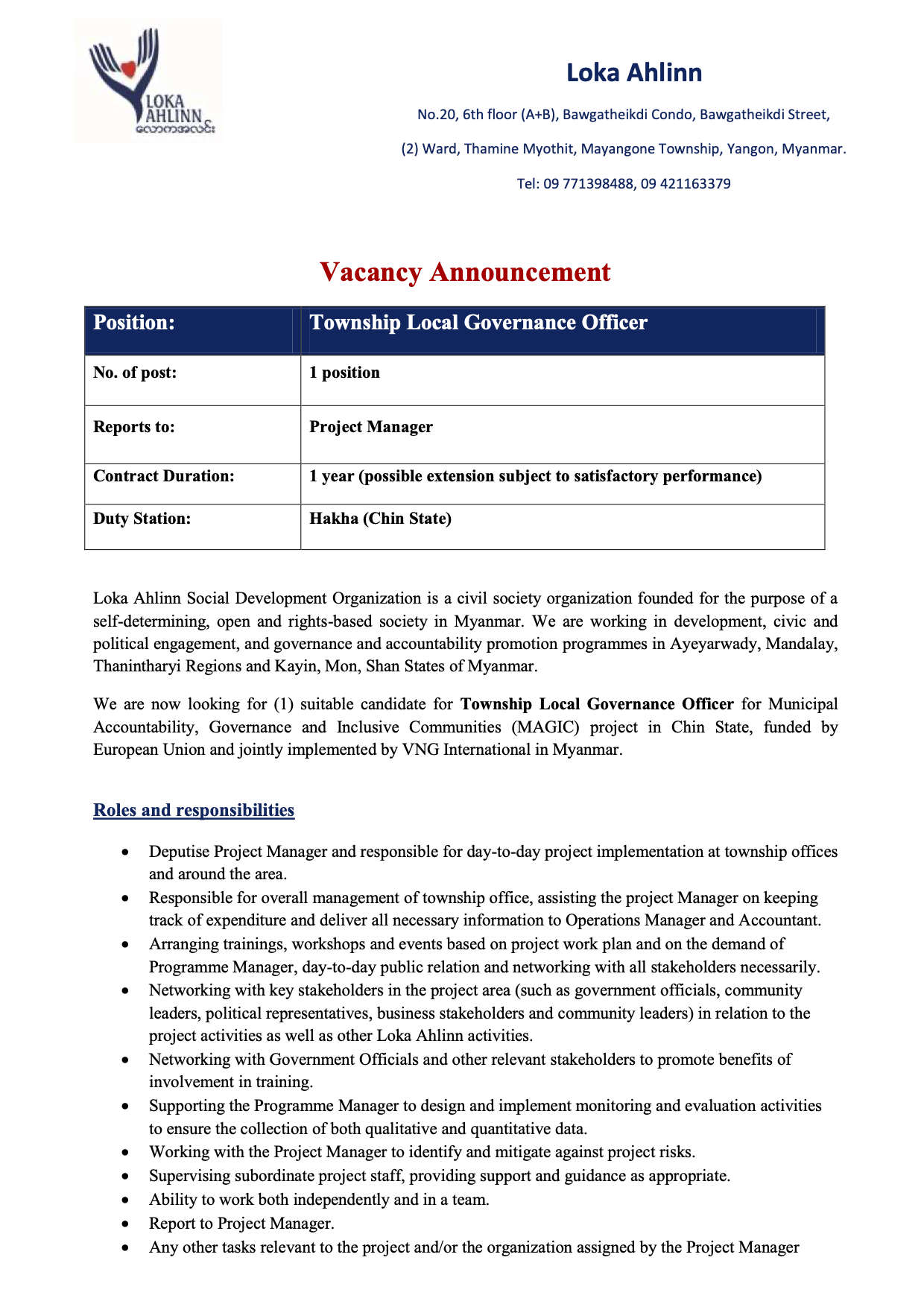 Vacancy Announcement
1 position
Township Local Governance Officer
1 year (possible extension subject to satisfactory performance) Hakha (Chin State)

Loka Ahlinn Social Development Organization is a civil society organization founded for the purpose of a self-determining, open and rights-based society in Myanmar. We are working in development, civic and political engagement, and governance and accountability promotion programmes in Ayeyarwady, Mandalay, Thanintharyi Regions and Kayin, Mon, Shan States of Myanmar.
We are now looking for (1) suitable candidate for Township Local Governance Officer for Municipal Accountability, Governance and Inclusive Communities (MAGIC) project in Chin State, funded by European Union and jointly implemented by VNG International in Myanmar.
Roles and responsibilities
  Deputise Project Manager and responsible for day-to-day project implementation at township offices and around the area.
  Responsible for overall management of township office, assisting the project Manager on keeping track of expenditure and deliver all necessary information to Operations Manager and Accountant.
  Arranging trainings, workshops and events based on project work plan and on the demand of Programme Manager, day-to-day public relation and networking with all stakeholders necessarily.
  Networking with key stakeholders in the project area (such as government officials, community leaders, political representatives, business stakeholders and community leaders) in relation to the project activities as well as other Loka Ahlinn activities.
  Networking with Government Officials and other relevant stakeholders to promote benefits of involvement in training.
  Supporting the Programme Manager to design and implement monitoring and evaluation activities to ensure the collection of both qualitative and quantitative data.
  Working with the Project Manager to identify and mitigate against project risks.
  Supervising subordinate project staff, providing support and guidance as appropriate.
  Ability to work both independently and in a team.
  Report to Project Manager.
  Any other tasks relevant to the project and/or the organization assigned by the Project Manager
Education/ Qualifications
 University degree holder
 Knowledge of local governance and public administration.
 Good proficiency in English, local language skills are preferable
 Experience of working with communities at ground level preferred.
General skills on finance, administration, information management and telecommunications skills.Experience required
 Lives in the vacant workstation area (Hakha Township).
At least 2-year experience in civil society, particularly in the areas of public participation.Special aptitudes, skill or knowledge required
Having good team spirit and communications skills
Having experience of working in a team preferably with CSOs and community groups
Highly motivated to work with different stakeholders and accepts diversity
Skills on Microsoft Office packages and Internet
Proactive and responsive
Able to ride a motorbike.Application DeadlinesPlease state applied position in email subject line and send CV and cover letter to HR & Admin Unit [email protected] not later than 23 October 2020, 4:00 pm.Only short-listed candidates will be contacted for personal interview.

Loka Ahlinn is an equal opportunity employer. Women and Ethnic minorities are strongly encouraged to apply.

Finally, good luck with your application and thank you for your interest in Loka Ahlinn.